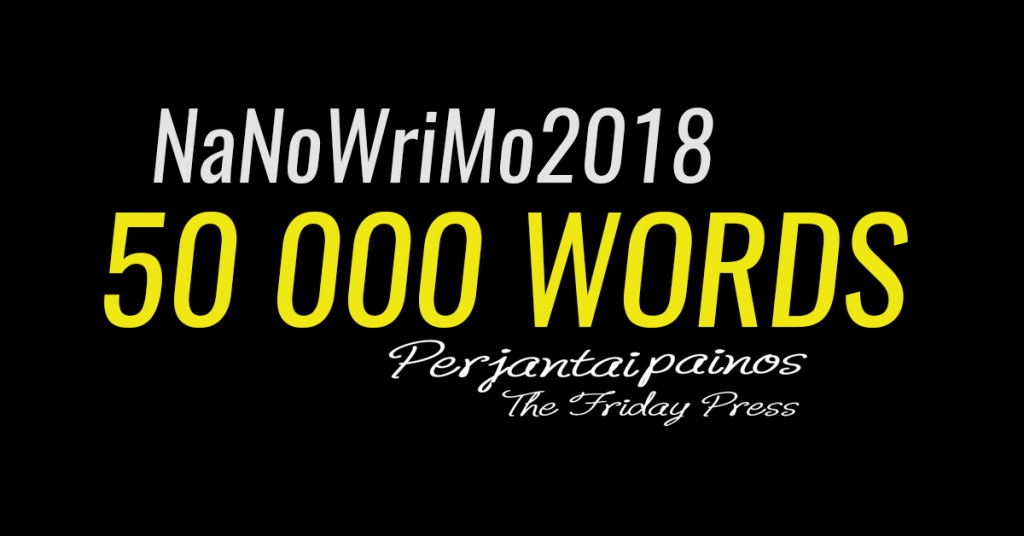 In English Below
Alku aina hankala? Ei oikeastaan tällä kertaa, vaikka en lähtenyt liikkeelle kovin hurjilla sanamäärillä. Fiilistelin enemmän maailmaa ja henkilöhahmoja. Tarinalle hahmottui runko, mutta en kiinnittänyt siihen vielä juurikaan huomiota.
Enimmäkseen tuntui varmaan siltä, että annoin itselleni luvan tehdä jotain minulle merkittävää. En välittänyt pyykkivuoresta tai unirytmistä. Kun teksti alkoi viikonlopun aikana rullaamaan, annoin palaa ja päivittäiset sanamäärätkin tuplaantuivat tarvittavasta.
Enimmäkseen tunnustelin sitä, miltä tuntui istua joka päivä töiden jälkeen kotikoneelle ja laskea sormet näppäimistölle. Tuntuiko pakolta vai miellyttävältä. Oliko se jotain, mitä halusin tehdä vai jotain, mitä piti tehdä? Tuntuiko helpolta vai väkinäiseltä?
Kirjoitin lineaarisesti. NaNoWriMo tuntui oikealta paikalta testata kirjoittamista tarinan alusta loppuun. Tätä tapaa suosin joskus kauan sitten, kun tarinat saivat rullata paperille nykyistä vapaammin. Kaikkien opintojen ja kokeilujen jälkeen tapani kertoa tarinoita on muuttunut suunnitelmallisemmaksi palapelinrakentamiseksi, joten lineaarinen lähestymistapa tuntui yllättävän vieraalta.
Mitä ensimmäinen vajaa viikko NaNoWriMoa sitten opetti minulle? Ainakin sen, että tekstin alkuun on helppo jäädä jumittelemaan ja jaarittelemaan. Olen kirjoittanut jo useamman sivun eikä tarina suinkaan ole vielä lämmennyt mihinkään, tuskin edes kipinöinyt. Marraskuun jälkeen alun tiivistäminen kuuluu ehdottomasti editointilistalle.
Tarinani alkaa näillä sanoilla:
Eemil kuuli äänen ensimmäisen kerran lentosataman baarissa. Hän oli juuri saanut eteensä höyryävän lautasellisen kirkasliemistä kalamuhennosta, kun hänen sydämessään rasahti.
Sanoja nyt: 9 363
Matkaa tavoitteeseen: 40 637
In English:
Is starting always the hardest part? Not really this time, even I didn't start with very high word counts. I designed the world and the characters. The story was starting to frame but I didn't think it too much yet.
Mostly I tried to understand how it felt to start writing every day after work. Did it felt compulsive or comfortable? Was it something I wanted to do or something I had to do? Did it feel easy or pressuring?
Mostly it felt like I finally allowed myself to do something important to me. I didn't care about the undone laundry or my sleeping schedules. When the text started to flow, I let go and doubled my daily word count.
I wrote the story linearly. NaNoWriMo felt the right place to test writing from the beginning to the end. It's the way I used to prefer a long time ago when the stories were able to roll out more freely. After all my creative writing studies and experiments, my way to tell the stories has become more systematic puzzle building, so the linear approach seemed surprisingly strange.
What's the first days of NaNoWriMo taught me? Well, it is easy for me to get stuck at the beginning of the text and hang in there way too long. I've already written several pages and the story certainly not yet warmed up to anything, hardly even sparked. After November, the compression of the beginning is definitely on the edit list.
The novel starts with these words:
Eemil heard the sound for the first time when he was sitting at the tavern of the air terminal. He had just received a steaming plate of Bouillabaisse when his heart started to rustle.
Word count now: 9 363
Words to go: 40 637